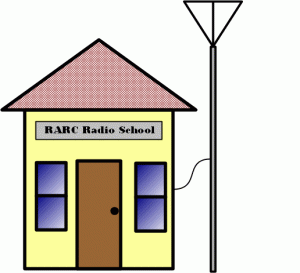 Fall 2017 Classes
Registration
Tuesday, September 5, 2017 7pm to 8pm. If you cannot make registration in person send an e-mail note to school@rarclub.net to discuss options.
You can fill out the Registration form in advance by clicking RARC Radio School Registration Form Fall 2017. It is a "fillable" PDF that you can fill out with Adobe(c) Reader or equivalent and then print and bring to registration. It saves time at registration. If you want a receipt for your payment fill out RARC Radio School Registration receipt 2017-3-web
License classes
Tuesday nights 7 to 9pm 09/12/2017 to 11/14/2017
Technician (first license)
General (second license)
Extra (highest license)
Optional classes
Thursday nights 7 to 9pm 09/14/2017 to 11/16/2017
One-day seminars
Remote-control station intro 9am 9/23/2017 at the church
D-Star Setup & Operations 9am 9/30/2017 at the church
NEC Antenna Modeling, the instructor will contact all the signed-up students to figure out the Saturday or evening when the most students can attend.
Class information