Spring Seminar – Second Offering
RARC Remotely Controlled Station – setup and operation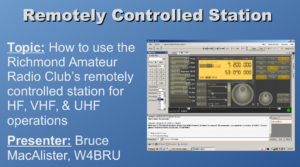 A two-evening seminar on the club's remotely controlled station. It's open to 12 club members, just enough to fill a Zoom screen. The cost is $10.
Tuesday May 4, 7 to 9pm on Zoom, voice (SSB, FM) demonstration, description, tour, and installation info.
Tuesday March 18, 7 to 9pm on Zoom, a follow-up for those needing guidance and the digital (PSK) demonstration, description, tour, and installation info.
Instructor: Bruce MacAlister, W4BRU
Prerequisites: you have a computer with camera, microphone, and Zoom capability
The registration form is on line at https://rarclub.net/seminar-registration-form/
You can fill it out and (1) pay via PayPal or credit card OR (2) submit it electronically and mail a check or (3) print the form using the browser print and mail it with a check.
Spring Classes 2021 – Registration has ended
Classes will be taught using Zoom. You can use a computer, a tablet, or a phone as long as it has a camera. The larger your screen the easier it is to see the class material. If you are new to Zoom, check out https://zoom.us/.
Registration for the fall will be announce in mid-summer.
The tuition fees cover instructors' supplies, support the club, help cover the Zoom software license, and other RARC costs of providing these virtual classes.
---
---
Official FCC Exams
The Club provides a Volunteer Examiners (VE) testing session near the end of each course. This is a free examination because the Laurel VEC covers all the costs. Click VE Testing Schedules  for the current schedule.
---
School Location – after pandemic restrictions lifted
Registration, classes, and exams are held at the Bon Air United Methodist Church, 1645 Buford Road, Richmond, VA 23235. Please enter the church from the West Bon View Drive side of the building. Signs inside direct you to the correct rooms.
Other Information
If inclement weather causes the closing of the school, additional nights are usually negotiated to allow adequate time to cover necessary material.
If you have questions or concerns, please contact the head of the school  Bruce MacAlister, W4BRU at w4bru@arrl.net or 804-353-4269 or fill out the form below.